New Boiler Deals Dorset – Boilers from £1,299
Our new boiler deals are some of the best in Dorset, and as Gas Safe Registered Engineers, you can guarantee that we will install your new boiler safely and efficiently. Not only are our boilers cost-effective and available to suit all needs and budgets, as accredited Silver Installers for Worcester Bosch, we can offer extended guarantees of up to 12 years! We also offer a range of other boiler makes and models from leading brands like Viessmann and Glow-Worm.
To discuss a new boiler with one of our plumbing and heating experts in Dorset, don't hesitate to get in touch with us on 01202 081141. We have a broad range of boilers available to suit all requirements and budgets.
Worcester 8000 Life
From £1,950
Combi boiler
Ideal for smaller homes with one bathroom.
Compact design, ideal for wall mounting.
Available in two stylish colour options - black or white, to suit your home's decor.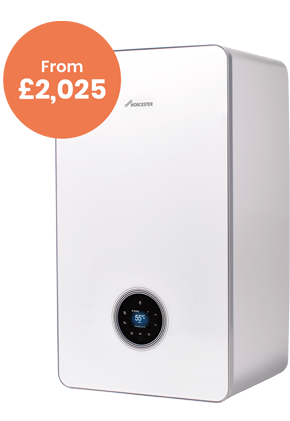 Worcester 8000 Style
From £2,025
Combi boiler
High power means this boiler is suitable for homes of all sizes.
Worcester's most powerful wall-hung boiler yet.
Intelligent filling system automatically re-fills your heating system to the optimum level.
Worcester Greenstar CDi
From £1,869
Combi boiler
Ideal for bigger homes, with multiple bathrooms.
Premium combi boiler - highest central heating output of the Greenstar boiler range.
Simple controls and digital display.
Glow-worm Easicom
From £1,380
Heat only boiler
Perfect for smaller homes with one bathroom.
Compact design means it fits perfectly in kitchen cupboards.
Easy-to-use interface and quiet operation.
Glow-worm Easicom
From £1,299
Combi boiler
Suitable for smaller homes.
Glow-worm's most competitively priced boiler model.
Small and compact design makes it ideal for fitting in a kitchen cupboard.
Glow-worm Energy
From £1,499
Combi boiler
High efficiency as the pump adapts to actual heating and hot water demands.
Small and compact design means it'll fit perfectly in a kitchen cupboard.
Easy-to-use and quiet operation.