Boiler Range - Boilers from £1,299
When searching for a replacement boiler in Dorset and Hampshire, you need look no further than Expert Plumber - our boiler installation experts are ready to take your call. We're gas safe registerd and have many years' experience fitting a range of boilers for residential customers across the region. As Silver Accredited Worcester boiler installers, we're proud to offer their full boiler range, as well as models from Glow-worm and Vaillant.
To arrange a replacement boiler with one of our boiler installation experts, don't hesitate to get in touch with us on 01202 081141. We have a broad range of boilers available to suit all requirements and budgets.
Worcester 8000 Life
From £1,950
Combi boiler
Ideal for smaller homes with one bathroom.
Compact design, ideal for wall mounting.
Available in two stylish colour options - black or white, to suit your home's decor.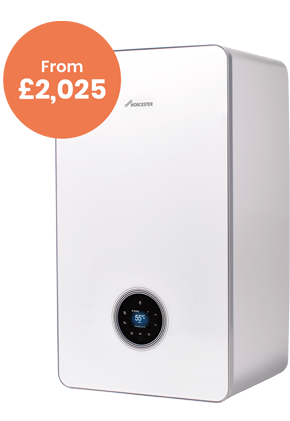 Worcester 8000 Style
From £2,025
Combi boiler
High power means this boiler is suitable for homes of all sizes.
Worcester's most powerful wall hung boiler yet.
Intelligent filling system automatically re-fills your heating system to the optimum level.
Worcester Greenstar CDi
From £1,869
Combi boiler
Ideal for bigger homes, with multiple bathrooms.
Premium combi boiler - highest central heating output of the Greenstar boiler range.
Simple controls and digital display.
Glow-worm Easicom
From £1,380
Heat only boiler
Perfect for smaller homes with one bathroom.
Compact design means it fits perfectly in kitchen cupboards.
Easy-to-use interface and quiet operation.
Glow-worm Easicom
From £1,299
Combi boiler
Suitable for smaller homes.
Glow-worm's most competitively priced boiler model.
Small and compact design makes it ideal for fitting in a kitchen cupboard.
Glow-worm Energy
From £1,499
Combi boiler
High efficiency as the pump adapts to actual heating and hot water demands.
Small and compact design means it'll fit perfectly in a kitchen cupboard.
Easy-to-use and quiet operation.